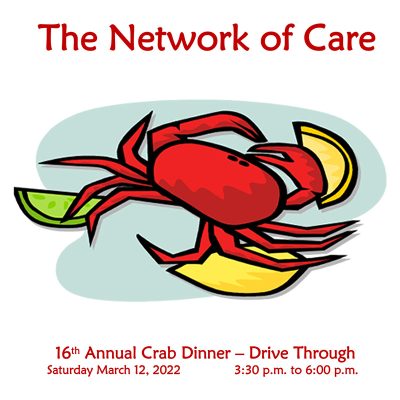 The Network of Care – 16th Annual Crab Dinner
The Network of Care is hosting our 16th Annual Crab Dinner (Drive-Through). All proceeds benefit The Network of Care, feeding families of children in hospitals.
All online orders must be received by Monday March 7, 2022.
You will receive an email confirming payment and a scheduled timeframe to pick up your meals between 3:30 p.m. and 6:00 p.m. on Saturday March 12, 2022.
Dinners must be purchased ahead of time – no dinners sold at the door.
Must show valid PROOF OF PURCHASE EMAIL upon pickup.
MENU
Full Crab Dinner (3 lbs. of crab, then cracked and cleaned) Crab is not marinated. – $75 each
Roasted Chicken – $50 each
Dinner Bag of Crab – $55 each
All dinners include Pasta Salad, Caesar Salad, Dinner Roll and a Dessert. All food will be prepared, packaged, and delivered to your car, in strict compliance with all recommended COVID-19 safety measures and guidelines. No refunds.
PICKUP LOCATION: Church of the Good Shepherd Parish Hall
3200 Harbor Street in Pittsburg
Stay in your car fully masked and your dinners will be delivered to you! Must show valid PROOF OF PURCHASE EMAIL upon pick-up.
Proceeds benefit The Network of Care, Feeding Families of Children in Hospitals.

The Network of Care has prepared and delivered a bagged meal to over 325,000 families in hospitals since we began in 2004, helping families at over 50 hospitals in California. These hospitals include numerous Children's Hospitals, Community Hospitals and Family Houses, serving families in pediatric units, neonatal intensive care nurseries, pediatric oncology, intensive care units and trauma centers.
We do this without a paid staff or overhead expenses. We are all volunteers; therefore, all proceeds go into the program to feed these families who desperately need help. Our volunteers include special needs young adults learning vocational skills. Their work with The Network of Care gives them transferable skills to help transition from high school to adult life, and helps secure employment after graduation.

To make a donation to The Network of Care, go to www.thenetworkofcare.org
The Network of Care
PO Box 5163
Concord, CA 94524
Phone: 925.584.4086